Welcome to another 'What I Read' post! This month I didn't actually read as much as I have in other months this year because I've been busy writing rather than reading which is exciting 😀 I still managed eight books though which I think's still a healthy amount! And I hav
e a feeling that next month's post will be much longer as I'm already on book three, four days in…
There's no particular theme to this month's reads and it's quite a random selection to be honest! So, let's get right to it!
As always I read lots of Harry Potter and I won't go into each of those because I could waffle on for hours (sorry to everyone I've bored in the past with my Harry Potter rambles…) and it goes without saying that I love them and will always give them five stars.
---
Besides four of the Harry Potter's I also read 'War of the World's' by HG Wells. Now I was really hoping that I'd love this because I absolutely loved the first of his books that I read 'The Time Machine' which I read in January. Unfortunately I did not love this book at all. I hate not finishing books and so I persisted through the whole thing but about a quarter of the way through I was bored. If you were thinking, 'It's not possible for a book about an apocalyptic alien invasion to be dull' then you'd be sadly mistaken. Because that's the only word I can earlieuse to describe this, dull. 
I mean, I can appreciate that this is a classic for a reason, it's well written and very forward thinking for it's time, there's no denying that Wells is a remarkably talented author, I just didn't enjoy this book. I don't think it's put me off reading more of his work because I really did love 'The Time Machine' but I don't think I'll go in with quite as high expectations. I give it 2 out of 5 stars.
---
So, from my least favourite book of the month to my (joint) favourite – 'Because We Are
Bad.' As I mentioned earlier I'm currently writing my own book which is about a girl with OCD and I wanted to read more books that involve it for research and to make sure I wasn't writing anything too similar to what's already out there.
One of the reasons why I want to write my book is because I know that there aren't that many (if any at all) young adult books out there that I think deal with OCD accurately, or at least none that reflect my personal experiences. Essentially I want to write the book that my younger self would have needed.
Of the books about OCD I've read, this one is by far my favourite; it's the only one that I haven't wanted to quite literally chuck at a wall in frustration – high praise indeed! I'd never actually heard anything about this book before I read it and it's actually a memoir rather than fiction which I didn't actually realise until I was at least half way through. The author, Lily Bailey, has gone through so much – as you'll realise if you read her book, but it's not a depressing read at all. Obviously it's not always a completely 'fun' read but the overall feeling, especially at the end, is one of optimism. Lily's strength definitely shines through which makes it a really inspirational read. I'm really glad I found this gem of a book as it definitely made me feel less alone in my struggles. I just wish it had been published sooner and I could give it to past me who was feeling really stuck and really miserable in OCD's grasp. I give this book 4.5 out of 5 stars.
---
My other favourite for the month was 'Simon VS the Homo-Sapiens Agenda' which I'm not going to go into much now because I want to do a longer review of it paired with its film version (Love, Simon) because I have lots of thoughts on them both. For now I'll just say that I give it 4 out of 5 stars…
---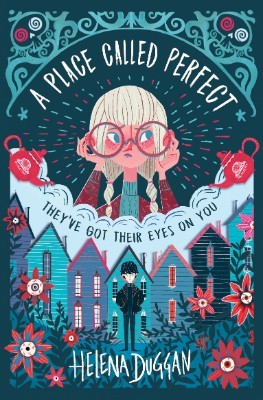 The final book I read in April (I can't believe we're in May already?!) was 'A Place Called Perfect' by Helena Duggan. Okay so confession time… I bought this book literally because of the cover. But come on, who can blame me, this is a gorgeous cover and it's even more gorgeous in the flesh. It's actually a children's book which is a bit different from what I usually read (although I suppose the first couple of Harry Potter's are technically kids books…) but I did actually enjoy it. Especially when you're struggling I think reading something simple that you can just relax and escape into. It had quite an interesting plot actually, that I can see being adapted into a young adult or even an adult fiction book one day.
The story follows a girl called Violet as she moves to a town called Perfect (hardly a spoiler I know…) and investigates all of the mysterious goings on there. Every resident of Perfect is given a pair of glasses upon arrival, the twins that run the town are definitely strange, as are some of the plants and the tea that everyone drinks. There's also definitely something strange with the other residents… I don't know whether I'd recommend this to some of my more sophisticated reader friends but to younger readers (maybe 5-12 as a recommended age range?) or anyone that wants a super easy read that still maintains an intriguing plot I'd say give it a try. And even if you don't love it, it'll still look pretty on your bookshelves 😉    I give it 3.5 stars (it would probably be 5 though if I was reading it at the appropriate age)
---
And that concludes this months 'What I Read' post, I hope you enjoyed it and I shall see you in 24 days for another one (this month I think my theme is going to be Young Adult novels).
Love,
Anna x