Welcome to the first post of the new(ish) blog! I decided to rename it so that I can write about other things that I'm passionate about or interested in addition to mental health. And so I thought I'd start this off with what will be the first of a new monthly series of posts, a 'What I Read' in a month, where I'll outline all of the books that I read and share my thoughts on them. So let's dive right in!
I've been trying to diversify what I'm reading a bit more this year and so I decided that I'd read at least one non-fiction book every month. In March I managed three – I was on a bit of a feminist roll!
---
The first of the nonfiction books that I read was 'Everyday Sexism' by Laura Bates.  Laura Bates is the founder of the Everyday Sexism project, a social media campaign where people comment their experiences of sexism that occur during their everyday lives. The book is contained a lot stories that people had sent into the project as well as lots of statistics.  It wasn't a particularly easy read, I caught myself feeling incredibly angry at the world at multiple points throughout it but it was definitely an important one. I wish I could make everyone read it and be educated on how much work there is still to be done. If anyone ever asks "Is Feminism really necassary?" then I would urge you all to say a definite "YES!" and point them in the direction of this book. Occasionally when I finish a book I feel inspired to write a review of sorts while it's still fresh in my mind. The following is what I wrote immediately after finishing this book.
I ended it feeling powerful. If I had ever doubted my ability to create change then by the end of this book I had forgotten it. I will now go forth and take great pride in moving the pebbles to help redirect the river's flow. For the majority of the book I was angry, incredibly angry. But we need that anger, we can use it, harness it to be the change that this world so desperately needs. I will not be complacent. Thank you to Laura Bates for writing this book and helping me realise that it's okay to be angry and that sometimes it's exactly what the world needs.
---
---
The next non-fiction book I read was also by Laura Bates and is called 'Girl Up'. 
I didn't realise until I started reading that it was aimed at a slightly younger audience than 'Everyday Sexism' with it's target demographic probably being younger teenage girls. That being said I did still enjoy/appreciate it despite already knowing a lot of what it said and I wish I could go back in time and give it to my younger self. I would recommend it to anyone, no matter their age who wanted an introduction into some feminist ideas surrounding the media in general, social media, body image, food and sex and relationships. Below is an exerpt from the beginning of the book just in case you needed another reason to pick up a copy.
They told you you need to be thin and beautiful.                                                               They told you to wear longer skirts, avoid going out late at night and move in groups – never accept drinks from a stranger, and wear shoes you can run in more easily than heels.
They told you to wear just enough make-up to look presentable but not enough to be a slut; to dress to flatter your apple, pear, hourglass figure, but not to be too tarty.
They warned you that if you try to be strong, or take control, you'll be shrill, bossy, a ballbreaker. Of course it's fine for the boys, but you should know your place.
They told you 'that's not for girls' – 'take it as a compliment' – 'don't rock the boat' – 'that'll go straight to your hips'.
They told you 'beauty is on the inside', but you knew they didn't really mean it.
Well screw that. I'm here to tell you something else.
Overall I would give the book 4 out of 5 stars. In my opinion it fell short of 5 stars just because I don't think I was the key demographic and I think that if I was then I would have enjoyed it a lot more.
---
The final non-fiction book I read was 'Harry Potter Therapy – an Unauthorized Book From the Restricted Section,' by Janina Scarlet, a book that my therapist told me about. Now I love the Harry Potter books more than well, most things to be honest, and so the idea of a book that could actually benefit my mental health while incorporating one of my all time favourite things definitely excited me. Unfortunately I didn't enjoy the book as much as I thought I would. As someone who has read all of the HP books well over ten times, maybe even over twenty, the author's understanding of Harry Potter didn't seem quite as deep as mine however I can understand that perhaps she was 'dumbing it down' a little so that it could be enjoyed by anyone, no matter their level of Harry Potter expertise.
Overall I would give the book 3 out of 5 stars as I was still able to appreciate the premise and you do get a sense throughout that the author is a genuinely caring human which does create a wholesome feel to it that other self help books sometimes lack.
---
The next book I read was 'Wild Embers: poems of rebellion, fire and beauty' a poetry collection by Nikita Gill. Some people may object to the use of the word 'poetry' when referring to Nikita Gill's work as it's a fairly fresh sub-genre of poetry that a lot of people don't appreciate. If I'm being honest I can sometimes be skeptical of this genre that has been dubbed by some as 'Instagram poetry' (e.g. lacking style over substance) as it was that very reason why I didn't really enjoy 'Milk and Honey' by Rupi Kaur. However, I loved this book. Nikita Gill's words were just so powerful and inspiring that I actually shed a tear or two when I was only about a third of the way through. That, to me, is the sign of a good, powerful book and the fact that it was 'Instagramable' was just an added bonus rather than a defining feature. So yes, I would definitely recommend 'Wild Embers' to anyone that wants to feel empowered and revolutionize the way they look at themselves and femininity in general. I give it 5 out of 5 stars.
---
Entering into fiction now, next I read 'Never Let Me Go' – by Kazuo Ishiguro. Now this book is often described as 'dystopian, science-fiction' and on the most basic, technical level that's accurate, however it is unlike any other dystopian novel I've read. I hear 'dystopian' and I immediately think of 'The Hunger Games' or 'Divergent' but you can in no way compare those to this book. Without engaging in any spoilers, this book has an incredibly interesting premise with a big plot twist but the thing that I liked the most about it was that it was incredibly unique in the way it handled the big 'issue' in the book (I'm trying so hard not to give the whole twist away right now!). The main character Kathy just accepts the life that she lives which makes the whole thing seem a lot darker and eerie. It was almost chilling the way that she almost attempted to justify and normalize her experiences to the reader, experiences that would be seen as incredibly unethical and twisted in our society.
Unfortunately I'd heard a lot about the book before I read it and so I already knew the big twist which did take away from the experience I would have had had I been reading it knowing nothing about it. I also felt like it was constantly building up to something that was never quite delivered but that may just be due to the reason above. Overall I did enjoy the book and I thought that the use of simplistic vocabulary throughout was almost artistic however I'm only going to give it 3 out of 5 stars because I think it didn't live up to the premise.
---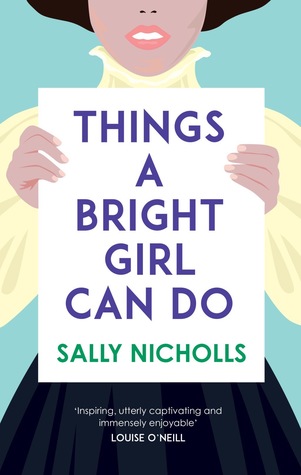 This next book was my favourite for this month and is 'Things a Bright Girl Can Do' by Sally Nicholls. I absolutely LOVED this book and I've been recommending it to everyone. It tells the story of three teenage girls fighting for the vote before and during the war. I think what I loved most about it was that each of the girls' voices was so different – you didn't even need to check the name at the start of the chapter to see who's point of view it was in. Each of the girls had their own dreams for the suffragette movement, their own lives and it was just a really enjoyable read. I also loved the fact that it was really quite modern despite the fact that technically you'd have to call it historical fiction which is usually one of my least favourite genres to read. Although it never explicitly uses modern terminology some of the characters are gay, one is potentially transgender and it was just really great to see such diversity in a young adult but also a historical novel. I give it 5 out of 5 stars.
---
---
The other five books I read this month were all Harry Potter books (Goblet of Fire; Order of the Phoenix; Half Blood Prince; Deathly Hallows and Philosopher's Stone) which, it should go without saying, all get 5 stars from me. I won't bother going into the plot because lets face it, everyone knows them!
---
And that concludes this month's 'What I Read' post! I hope you've enjoyed hearing my thoughts and opinions – as always, let me know in the comments whether you agreed with me or not, I always love hearing your thoughts.
Thank you for reading, I hope you're all having a great day,
Love,
Anna x